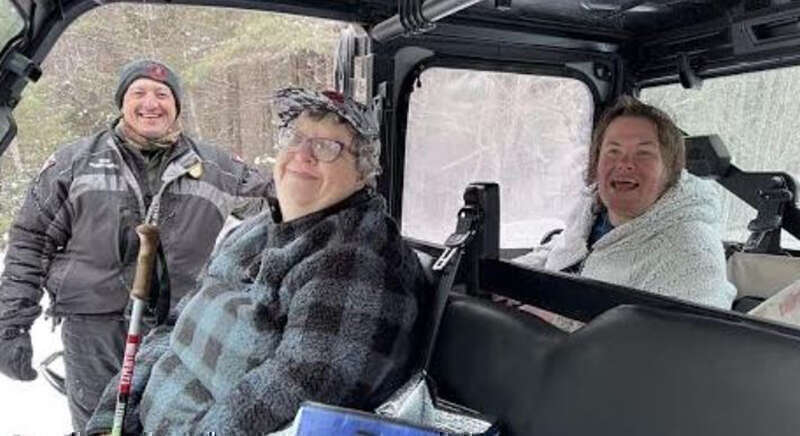 Maine Game Warden Brad Richard smiles outside the side-by-side that moved missing Topsham women Kimberly Pushard and Angela Bussell away from the site where they were stranded for several days as Maine law enforcement launched a massive search. "everyone was really working together to try to find them," said Richard. "It was as great of an outcome as one could ever ever imagine." Courtesy photo
by Sarah Craighead Dedmon 
Kimberly Pushard and Angela Bussell had been missing since Wednesday, Feb. 22, when they were last seen in a Springfield, Maine, gas station. The Topsham police department had issued a silver alert the day prior, and Maine law enforcement agencies, including Maine Game Wardens, joined in the search.
Warden Brad Richard of Princeton was brought onto the search on Sunday, Feb. 26, after two days of single-digit and subzero temperatures. 
"I was assigned to run out every road in Township 39 and Township 40 and get as much done as possible, understanding there was a lot of country to cover," said Richard.  "It was a needle-in-a-haystack situation, and it's such a vast piece of wilderness. There are hundreds of miles of logging roads through there, and where they picked to go, we didn't know."
Richard had already covered at least 90 miles of trails on his snowmobile when his GPS batteries were low, so he stopped to change them. During that pause, Richard looked at his map and noted two road systems that hadn't been checked yet — one to the south and one to the north.
"I really can't answer why I went to the north instead of to the south, other than that's where I felt I wanted to go," he recalled.
He followed the northern route for a mile before he came to another decision point. The snowmobile trail banked left, and a logging road went straight. 
"There were no tracks. Nothing had gone that way," he said. "I stopped and stood up and looked and then thought it almost looked like there had been tracks before."
Richard followed the road for a few hundred yards before it was apparent there were tracks, and they were from a narrow-wheelbase vehicle. 
"I kept going. I could tell it was a one-way track going in, and there was no track going out," said Richard, who now knew there was a good chance he was on the trail of Pushard and Bussell, who were traveling in a red 2012 Jeep Compass. 
It was then that he took a moment to steel himself.
"In our job, sometimes we have time to mentally prepare ourselves, other times we don't," Richard recalled. "I knew these ladies were missing for four days and that it had been subzero temps, and that's not a good combination."
Coming around a corner, Richard spotted their vehicle covered in snow.
"There was no one around," he said, fearing the worst. "I shut my snowmobile off and stood up and hollered twice, 'Hello, game warden!'"
He only had to wait a matter of seconds before the driver's side door opened, and a woman said hello.
"I said, 'Kim?' and she said, 'How did you know my name?'" said Richard, smiling. "I said, 'Well, we've been looking for you.'"
Richard learned that the ladies had run out of gas on Friday night and had been without heat all that time.
"While we were helping them out of the car, Kim [Pushard] had a half-full 2-liter bottle of soda under her arm, and it was frozen solid," Richard said. "That goes to show how cold it was where they were."
After giving them the food and water he had with him, Richard told the ladies he needed to go bring in some other people to help get them out of there. 
Bussell, who had been in the back of the car, responded energetically.
"She goes, 'Well, get going then!'" laughs Richard. 
Using a neighboring man's side-by-side, the women were moved out of the road where their car was stuck, and taken to Penobscot Valley Hospital. 
"And as far as I know, they were let out last night," said Richard.
In addition to the game wardens, Topsham Police, Maine Forest Service, and Maine State Police participated in the search, among other agencies.
"Everyone was working together to try to find them," said Richard. "It was as great an outcome as one could ever imagine."
When Maine Game Warden Brad Richard saw one set of tracks going down the logging trail and no tracks coming back out, he knew he might be about to locate the two women, who had been missing for five days. Photo courtesy Maine Department of Inland Fisheries & Wildlife